Your story starts here
Plan the Perfect Jackson Hole Getaway
Ready to start planning your perfect escape to the mountains? There's so much to do, the options can be overwhelming! Our team is here to take the headache out of your trip-planning, so we've compiled this list of planning resources, adventure inspiration & direct booking links from preferred partners to help you get started so you can make the most of your minutes in the mountains.

Our team truly understands the importance of curating experiences that are the foundation for lifetime memories for our guests. To enhance your stay, we are happy to help you not only with the essentials – pre-arrival grocery & bar stocking, preferred transportation, gear & childcare rentals, etc. – but curating unique experiences & adventures that are anything but ordinary, with our true concierge service.

For custom experiences, additional recommendations, or for help with trip planning, contact our Concierge Team with your wish list!
AIRPORT & IN-TOWN LUXURY SUV SERVICE
These luxury services guarantee your professionally trained and dressed chauffer will arrive at your designated time, getting you to your destination safely. Rest assured, you're in good hands with the best of the best when you book with Abode's Concierge Team. From roundtrip airport transportation to in-town, day trip & personal chauffeur service, you can count on a fleet of luxury sedans, SUVs, vans, minibuses & luggage trailers for all your gear and your group. Car seats and booster seats are provided upon request at no additional cost.
We'll do the shopping to fuel your group!
You've spent the day traveling… the last thing you want to do is to spend time running from store to store gathering your groceries or keeping up with the local liquor laws. We make it easy, just let us know what's on your list and we will ensure it's put away and awaiting your arrival, or we'll deliver to your door if you need restocking during your stay. Ask our Concierge Team about Kosher Grocery Shopping.
Dine-In, Takeout, Delivery & Private Chef Services
Whether you're looking for a casual family style dinner, appetizers by the fireplace, heavy hors d'oeuvres, cocktail parties, 7-course full service tasting dinners, we have the best chefs in Jackson Hole. Contact our Concierge Team for our Dining Experiences Menu.
Rentals & Trusted Babysitting Services
Don't worry about hauling all your family's gear with you from home, Jackson Hole has it all! Including cribs, highchairs/booster chairs, baby baths, stair gates, toys, strollers, hiking backpacks, and more… If there is something else you need, just ask. Some call it a babysitter, others might call it an expert S'more Maker or Fort Builder. No matter the name, we all know sometimes you need an adult-only night while on vacation, but don't want the kids to miss out on their own incredible adventures! That's when we call on our trusted network of fully licensed, insured, and CPR/First Aid certified babysitting services who come to your Abode to look after your little ones and ensure their safety and vacation memories.
Everything going on in & around town
Skiing and riding our many trails and terrain parks could fill every day, but there's more to Jackson Hole than just our world-class ski slopes! The Jackson Hole calendar of events has as many year round events, cultural activities and festivals. At any given time during your stay you can experience major sporting events, visit the Farmers Market, visit an exhibition or join an art auction. In Jackson Hole, no matter what you opt for, a thoroughly entertaining vacation is a given. While several events might been cancelled or modified, Visit Jackson Hole's Calendar of Events will keep you informed of everything going on in and around town during your stay.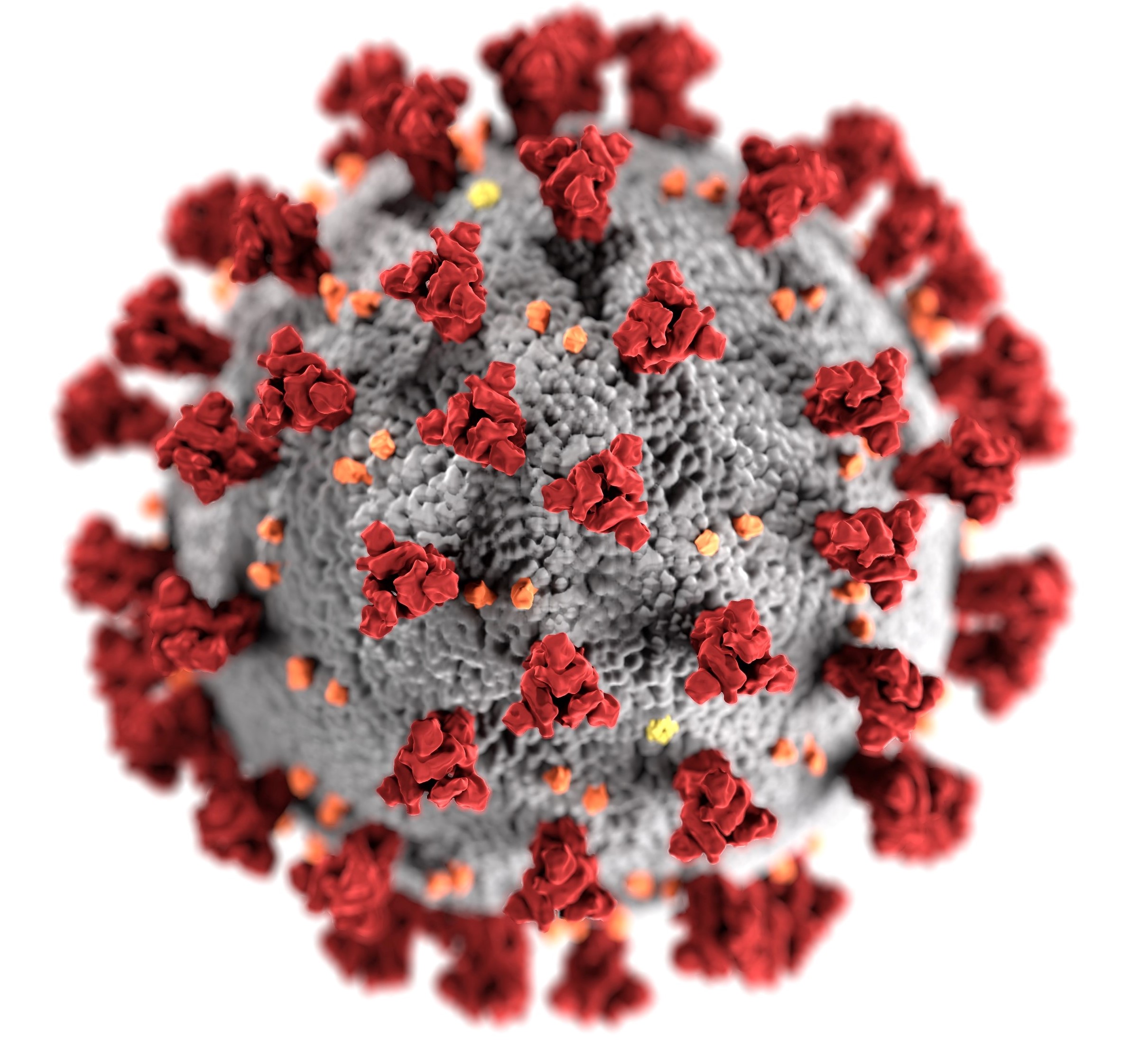 Your Health & Safety is Our #1 Priority
Abode Luxury Rentals is committed to putting the safety and security of our guests, residents and associates as our number one priority. By choosing to book a stay with Abode, you are putting your trust in us to provide a safe and healthy environment for you and your family. We do not take that responsibility lightly. We have now taken this same level of commitment and applied it to enhancing our already stringent health and safety protocols to ensure compliance with the highest standards. Prior to making a reservation and arrival at one of our Abode residences, we recommend all guests review the most up to date federal, state and local traveler guidance.
SUMMER ADVENTURES & ACTIVITIES
Experience the limitless opportunities to explore and enjoy the adventure of the outdoors in the unbeatable weather of Jackson Hole
Jackson Hole has emerged as a world-class mountain biking destination. The area's abundance of trails and bike shops makes it easy for bikers of all abilities to get off the pavement.
Jackson Hole Mountain Resort
Jackson Hole Bike Park
ride the Sweetwater Gondola up 1,276' vertical feet with your bike to ride down on one of our new trails. Options abound for every level including novice trails for the uninitiated as well as eye-opening advanced trails and jump tracks. Sail over tabletops, flow around corners and then catch the Teewinot lift or Sweetwater Gondola for a 5-minute ride back to the top.
JH Sports Youth Bike Camp
The JH Sports Youth Bike Camp is perfect for 7- to 13-year-old bikers who are physically and mentally ready to spend five full days of supervised mountain biking. Your child must be able to ride a 20" bike, confidently operate hand brakes, and balance safely on their bike-both seated and while standing on the pedals.
Adaptive Biking
All trails on the lower mountain off of Teewinot with the exception of True Grit are compatible with adaptive bikes. And, Deepest Darkest is the only trail compatible with adaptive bikes off of Sweetwater.
3395 Cody Ln
Teton Village, WY 83025
>> Read more about biking at Jackson Hole Mountain Resort
Grand Targhee Resort
Grand Targhee Bike Park
Explore over 2,000 vertical feet of lift-serviced downhill and 70-plus miles of multi-use trails for cross country and downhill mountain biking, as well as hiking and horseback riding. The Grand Targhee Bike Park offers every style of riding for every level of mountain bike rider: Gentle, banked cruisers; tight and twisty singletrack, cross country; gnarly, rock-strewn downhill; drop-offs; and much more.
3300 Ski Hill Rd
Alta, WY 83414
>>Visit The Grand Targhee Bike Park
Snow King Mountain
Mountain Biking
Snow King will, in the future, offer lift-served mountain biking at a new downhill bike park. Until then, ride the greater Snow King, Cache Creek and Game Creek network of trails on your mountain bike.
>>Read more about Snow King Mountain biking
Popular Pathways
Mountain Trails Foundation
The valley of Jackson Hole has over 56 miles of paved pathways that link the town of Jackson to Teton Village and Grand Teton National Park. Unlike the bumps, rocky jolts, and loose dirt that characterizes the trails favored by mountain bikers, these Pathways are smoothly poured ribbons of concrete that stretch for miles and miles in every direction.
>>VIEW MAP
The Snake River and its tributaries are known as world-class fisheries. From the upper reaches of the Gros Ventre River, through the braided Grand Teton National Park section of the Snake, to the lumbering stretches of the South Fork and Salt rivers, anglers find more trout than there are flies with which to catch them.
Contact
our Concierge Team for fly fishing trips bookings.
Golfing in the Tetons is a great way to spend a morning or afternoon while on vacation in Jackson Hole. Enjoy a day out in the fresh air on the links and watch how far your ball soars at high altitude with a backdrop of epic views!
Shooting Star Golf Course
Shooting Star Golf Course
The private, 18-hole course accentuates the innate beauty and dramatic landscape of Shooting Star. Several holes play along streams and lakes backed by sweeping views of the Teton Mountain range. The course is integrated within its surroundings so that it looks like a natural part of the landscape, making every round of golf at Shooting Star a truly magnificent experience.
>>Visit Shooting Star Golf Course
Teton Pines Golf Course & Club
Teton Pines Golf Course & Club
Situated at the base of the stunning Teton Mountain Range in Jackson Hole, WY Teton Pines Country Club combines a masterful Arnold Palmer designed golf course with a concerted effort to conserve the abundant natural habitat and wildlife of the region.
An additional five sets of tee boxes offer golfers of all levels the chance to maximize their enjoyment and appreciation of the course. Beautiful scenery, abundant wildlife, impeccable service and classic Palmer-design trademarks will leave you with a cherished memory and the desire to play here again and again. Some say our little corner of Wyoming is heaven on earth.
>>Visit Teton Pines Golf Course & Club
Jackson Hole Golf & Tennis Club
Jackson Hole Golf & Tennis Club Golf
Jackson Hole Golf & Tennis Club Golf is a semi-private country club with daily tee times and the North Grille restaurant available to non members.
Opening Date for the Golf Course is April 23rd, 2022! (weather dependent)
Non members, please
click here
to book your tee times up to 30 days in advance!
Members, please contact the pro shop via the Member Hotline for tee times and availability.
>>Visit Jackson Hole Golf & Tennis Club Golf
Snake River Sporting Club
Snake River Sporting Club
Meeting on the green can mean something different for everyone. Here, it means meeting at the base of a mountain with the natural sounds of swaying cottonwoods and rushing river enveloping you. The Snake River meanders along the course and millions of acres of national forest stretch into the distance. Hours can be lost here; swings honed. Yet why does it feel like no time has passed at all? Sometimes in places of extreme beauty we feel a touch of magic and are transported to a timeless place.
>>Visit Snake River Sporting Club
3 Creek Ranch Golf Course and Club
3 Creek Ranch Golf Course and Club
A member-owned private club and luxury golf resort surrounded by the natural beauty of Jackson Hole, Wyoming.
Tee off on a round at the award-winning, member-owned private club, or lounge by the 75 foot heated pool with views of the Tetons rising in the distance; whichever path you choose, 3 Creek Ranch presents the prime location to get away from it all. Positioned on 710 acres within the Greater Yellowstone Ecosystem, 3 Creek offers an ongoing commitment to conserve the blue-ribbon fishing waters, and protect the natural surroundings of native trees, grasslands, and wildlife corridors.
>>Visit 3 Creek Ranch Golf Course and Club
Hiking in Jackson Hole runs the gamut from river walks to boulder scrambles to mountain panoramas and getting high—like thousands of feet high. Everyone has their own definition of a day hike, and Jackson Hole offers abundant options.
WINTER ADVENTURES & ACTIVITIES
Cozy lodges, awe-inspiring wildlife, and some of the world's best skiing and winter sports awaits for you at Jackson Hole.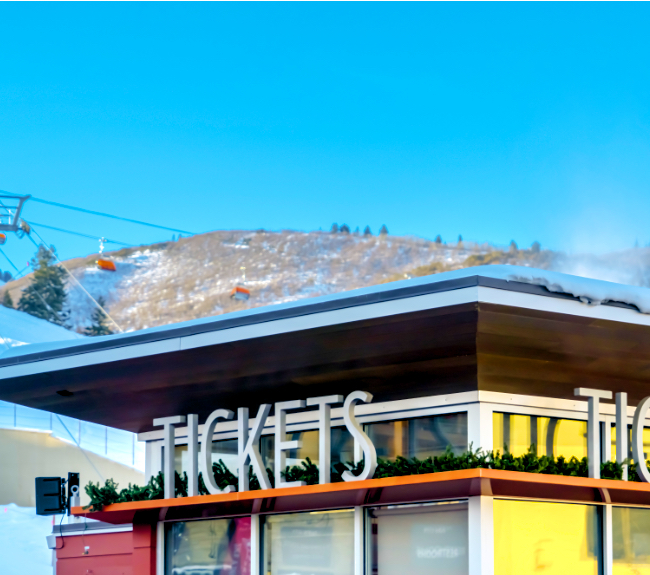 Jackson Hole is a wonderful choice for your ski getaway. You will find terrain for beginners, intermediate, and experts alike and plenty of activities, dining, and nightlife off the mountain too. No matter what brings you to ski or ride in Jackson Hole, make sure you have enough time to take it all in.
JACKSON HOLE MOUNTAIN RESORT
JHMR opens for winter operations on Thanksgiving Day, November 25, 2021 through April 10, 2022.
At this time, all lifts are planned for operation at full capacity (including the Aerial Tram). Daily mountain capacity will be managed once again this winter for guest safety and to elevate the guest experience. The mountain will continue to run select base area lifts at 8:30am (weather permitting) to allow guests to get up on the mountain earlier. Health and safety remains a priority for our guests and staff.
JHMR will adhere to the guidance from officials and adjust mountain operations and safety protocols accordingly.
SEASON PASSES
Compare all the benefits and pricing of JHMR season pass offerings during the Winter 2021/22 season.
Click here
for JHMR and multi-resort passes.
LIFT TICKETS
Guests will be able to review pricing, check availability, and
purchase here
Afternoon/Half-Day Lift Ticket: The afternoon ticket start time earlier to 12 p.m. Be sure to select 1/2 Day in the Number of Days dropdown box once you enter the online store.
SNOW KING MOUNTAIN
Snow King Mountain opens for winter operations on December 4, 2021.
About three blocks from Jackson Hole's Town Square, you'll find beginner to expert terrain overlooking Jackson and encompassing wild views of the Tetons.
SEASON PASSES & TICKETS
Compare all the benefits and pricing of Snow King Mountain offerings during the Winter 2021/22 season.
Click here
for season passes, winter tickets, Big King Pass, Cowboy Coaster tickets, Scenic Gondola Ride tickets, and King Tube tickets .
All passes refundable until 24 hours prior to your scheduled visit. In the event of a COVID-19 related closure, your purchase will be refunded automatically. In the event your activity is closed, a full refund prior to use of the pass is available.
GRAND TARGHEE RESORT
Grand Targhee Resor opens for winter operations on November 19, 2021
, conditions permitting. Escape to the Tetons this winter! At Grand Targhee Resort you will find some of the best snow on earth with over 500" of annual snowfall and plenty of great terrain to explore.
SEASON PASSES
Enjoy unlimited skiing and snowboarding at Grand Targhee Resort. Your 2021/22 season pass comes with some great perks including discounts around the resort, 50% off lift tickets to all Mountain Collective Resorts, and free lift tickets at selected Partner Resorts.
Click here
for details.
LIFT TICKETS
Guests will be able to review pricing, check availability, and
purchase here
Afternoon/Half-Day Lift Ticket: The afternoon ticket start time earlier to 12 p.m. Be sure to select 1/2 Day in the Number of Days dropdown box once you enter the online store.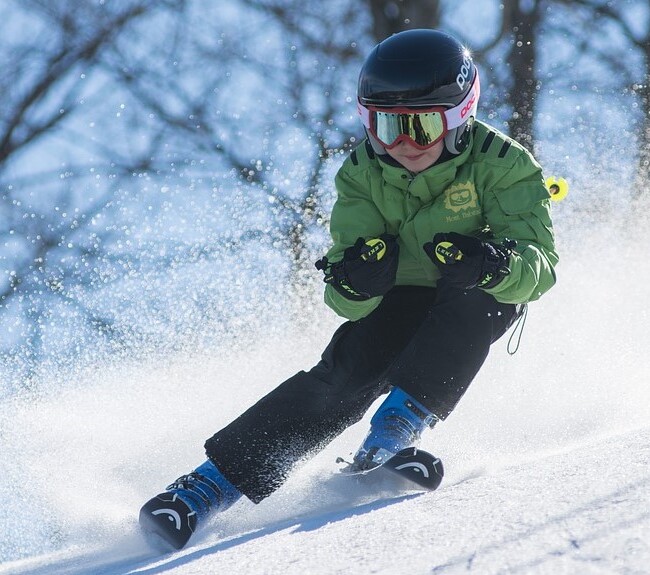 It doesn't matter if you're 2 or 92, thanks to world-class instructors and expansive terrain you can learn to ski or snowboard, improve technique and skills, and conquer the mountain for a once-in-a-lifetime opportunity that can't be missed.
JACKSON HOLE MOUNTAIN RESORT
Jackson Hole Mountain Resort offers a wide variety of individual and group lessons that cater to every skill level. Whether you prefer steep, technical terrain or flat and forgiving slopes, from 1:1 instruction to private or small group lessons (max of 6 participants) JHMR has a lesson to help you sharpen your skills and explore the mountain with confidence, always ensuring your safety.
EXPLORE ALL SKI & SNOWBOARD LESSONS AT JHMR>>
This winter Mountain Sports School is prioritizing health and safety through new offerings with more individualized attention, smaller classes and protocols to provide a safe learning environment.
RESERVATIONS ARE REQUIRED.
Due to limited availability JHMR recommends reserving your lessons as far in advance as possible. We highly recommend that you purchase your lift access at the same time you purchase your lesson to ensure you will have lift access for all of your lesson days.
The Kids Ranch Daycare will not be open to the public for Winter 2021-2022.
SNOW KING MOUNTAIN
Snow King Mountain offers lessons that are customized to guests based on their individual abilities and goals. Get better, have more fun, take your skiing to the next level and take advantage of their free day pass when you book a lesson.
EXPLORE ALL SKI LESSONS AT SNOW KING MOUNTAIN>>
Affordable Instruction: With 100% effective, fun lessons that happen to be the most affordable in Jackson Hole, you'll leave a better skier or snowboarder, but not because your wallet's so much lighter.
GRAND TARGHEE RESORT
Whether you're a seasoned powder lover looking to take your skills to the next level or a beginner ready to learn the ropes, the Ski & Snowboard School ensures that learning to ski or ride will be fun, safe, and affordable for all. Join the professional instructors for a group or private lesson for adults in Snowboarding, Alpine, Telemark, or Nordic Skiing and get ready for a great time while you develop balance, learn technical skills, and gain confidence.
EXPLORE ALL LESSONS AT GRAND TARGHEE RESORT>>
Gran Targhee offers kids lessons and child care, available to children ages 2 months to 5 years of age. The care providers will keep your children entertained and can transition your child to ski lessons. If your child is ready to hit the slopes. Child care and lesson packages are also popular and widely available.
Masks must be worn by children 3 and up.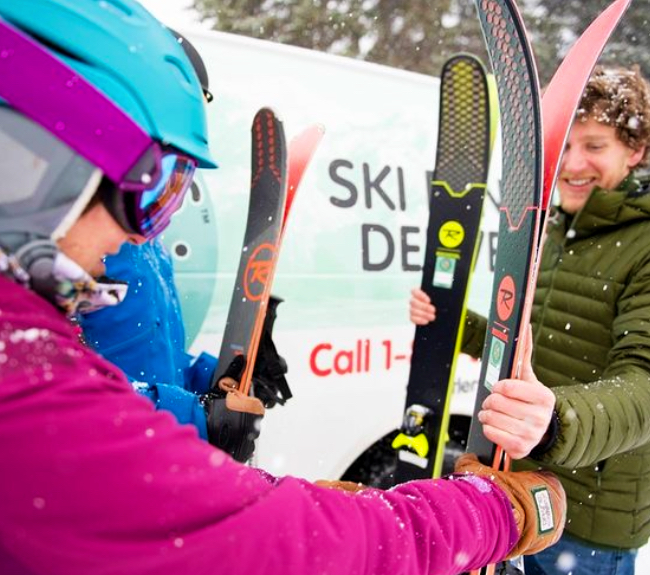 It doesn't matter if you're 2 or 92, thanks to world-class instructors and expansive terrain you can learn to ski or snowboard, improve technique and skills, and conquer the mountain for a once-in-a-lifetime opportunity that can't be missed.
SKI RENTALS & DELIVERY
Abode Luxury Rentals Concierge service delivers top quality ski and snowboard equipment through the simplest and most convenient processes, all while keeping you and your family safe with their COVID-19 protocols. No need to wait in line, enjoy safe rentals delivered straight to you. With our concierge services avoid standing in a crowded ski shop again!
CONTACT OUR CONCIERGE TEAM>>
Teton Village Sports
For fifty years,
Teton Village Sports
has been supporting the customers of Jackson Hole from the base of the Jackson Hole Mountain Resort. Visitors and locals alike patronize Teton Village Sports because we offer high quality service, the best clothing and gear, precision tuning, and a large fleet of demo and rental equipment.
EXPLORE TETON VILLAGE SPORTS RENTALS>>
3285 Village Dr,
Teton Village,
WY 83025
Call (307) 699-4625
HOBACK SPORT
Hoback Sports
is a full service ski shop, conveniently located in the town of Jackson. If you are staying in town, Hoback Sports is the most convenient place to get setup with all of your skiing and riding needs, including touring skis and snowboards.
EXPLORE HOBACK SPORTS RENTALS>>
9am-7pm
520 W. Broadway Ave #3
Jackson, WY
Call 307-733-5335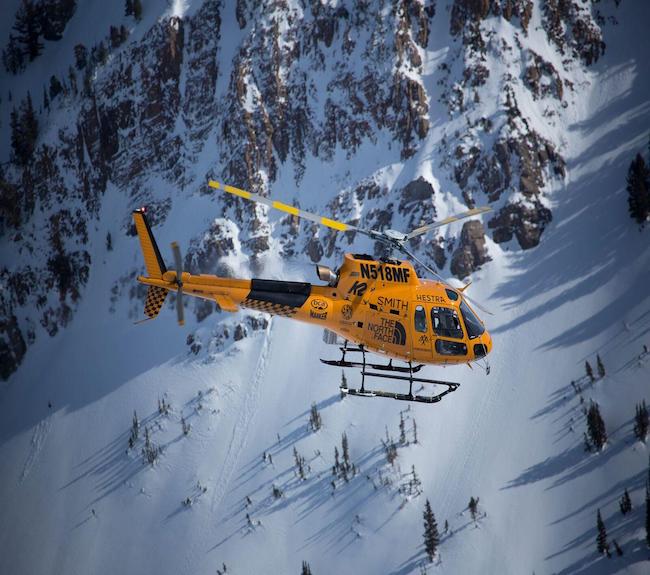 Heli-skiing offers challenges and adventure in awesome high country above Jackson Hole and in the Tetons. Classic, endless powder runs through glades or the steep and deep offer you an unforgettable experience.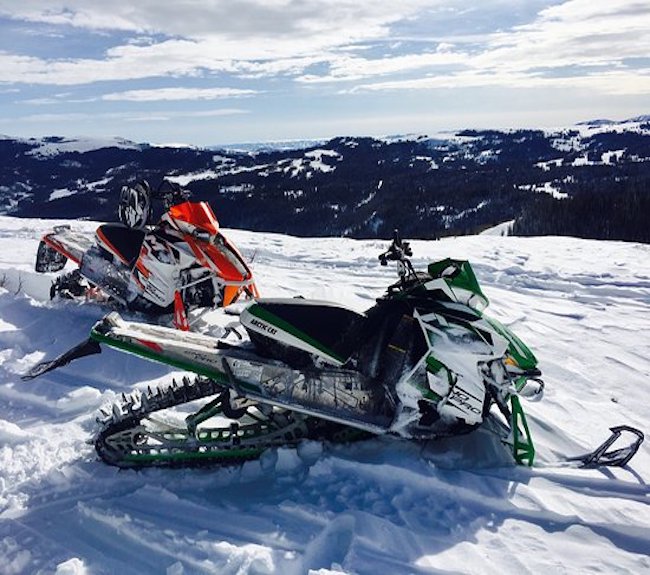 Get access to some of the most exciting terrain and beautiful snow on earth. One way to experience the sweeping bowls of powder and untouched mountain meadows in the winter months is to go snowmobiling. If you want to reach miles beyond other adventurers, a snowmobile might be the best option for you. This is, without a doubt, one of the most thrilling ways to enjoy Jackson Hole and The Tetons.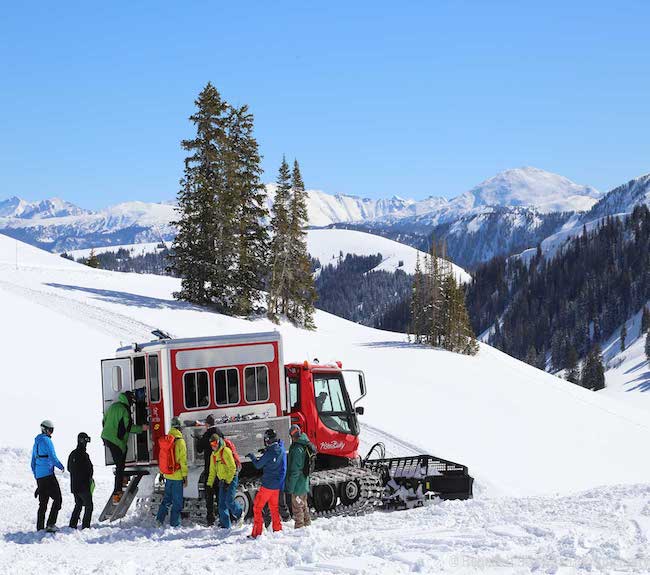 Cat skiing is a form of guided backcountry exploration, taking you away from the borders of controlled ski areas to ride through untouched powder. Rather than using a helicopter to access the backcountry, a snowcat acts as your lift, which makes it far cheaper than heli-skiing for an equally heroic outcome.

Ski down the breathtaking views of the Grand Teton. For you and just 11 other skiers or riders, a huge powder reserve of more than 600 acres and up to 20,000 vertical feet in one day awaits.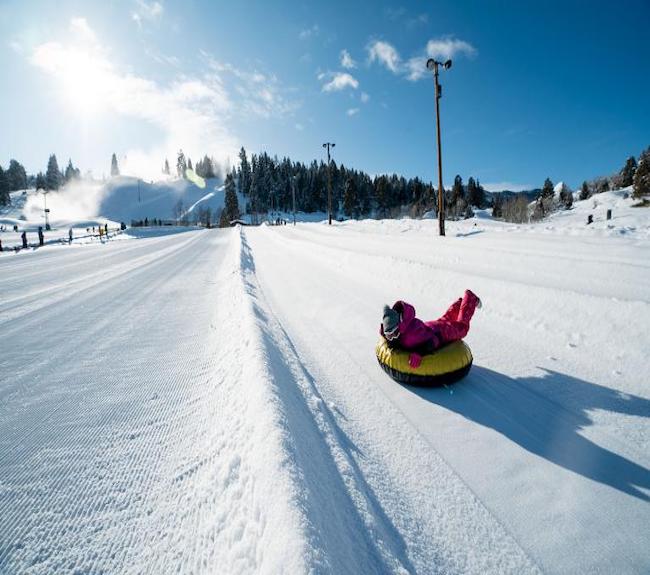 Skiing and snowboarding not your thing? Snow tubing in Jackson Hole is a unique Jackson Hole winter activity for the whole family to get out and enjoy the snow! King Tubes has snow tubes, three smooth groomed lanes and a Magic Carpet to take you up the hill. All you need are warm clothes and a need for speed!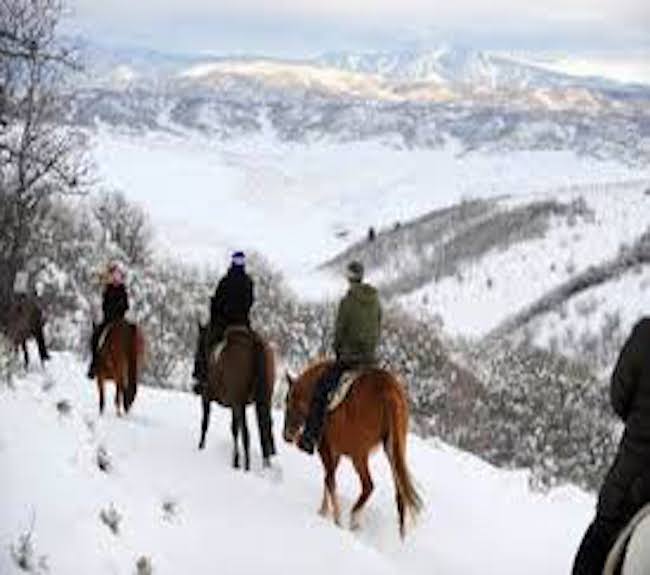 Take a horseback ride through the snow and enjoy the expansive mountain views. You don't want to miss out. No trip to Jackson Hole is complete without embracing the Cowboy States' favorite pastime, horseback riding. With many outfitters around the valley, Jackson Hole is a great place for passionate riders and for those who are wanting to experience a horseback ride for the first time.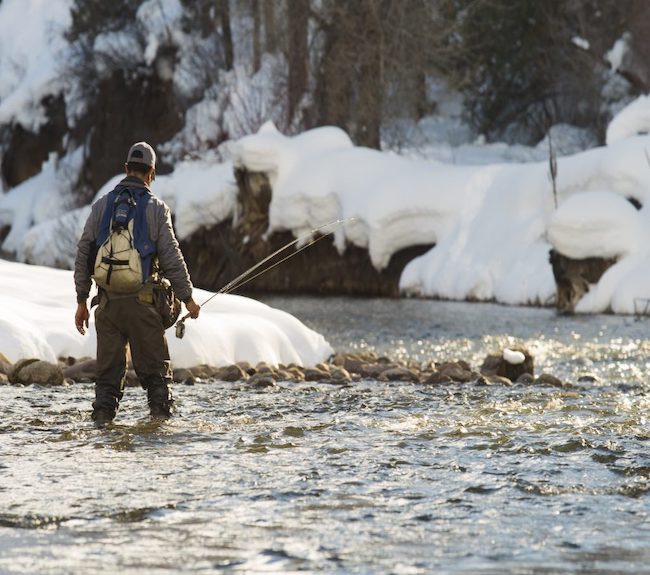 Contrary to popular belief, the winter months in Jackson Hole provide ample opportunities for the year round angler to have successful days on the water. Despite the limitations of cold temperatures and winter weather conditions, many of the major fisheries in Jackson Hole and Eastern Idaho remain ice free and sustain healthy populations of actively feeding fish. The major rivers that offer year round fishing in our region include the Snake, The South Fork and the Henry's Fork, but the limiting factor when fishing on these streams in the winter is access.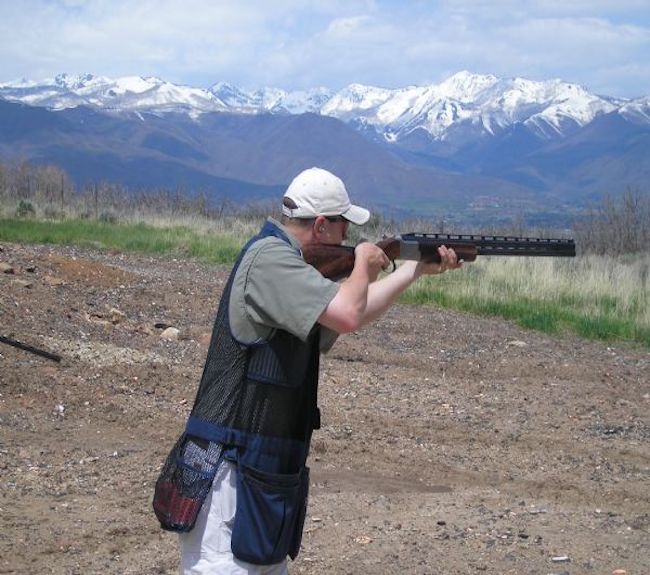 If you're looking to get outdoors and practice your marksmanship, there are places around Jackson Hole that can help you. Sharpen your visualization skills and broaden your repertoire of shots with straight away, and crossing trap clay targets. In addition to open shoots in the Summer, private instruction are available on site.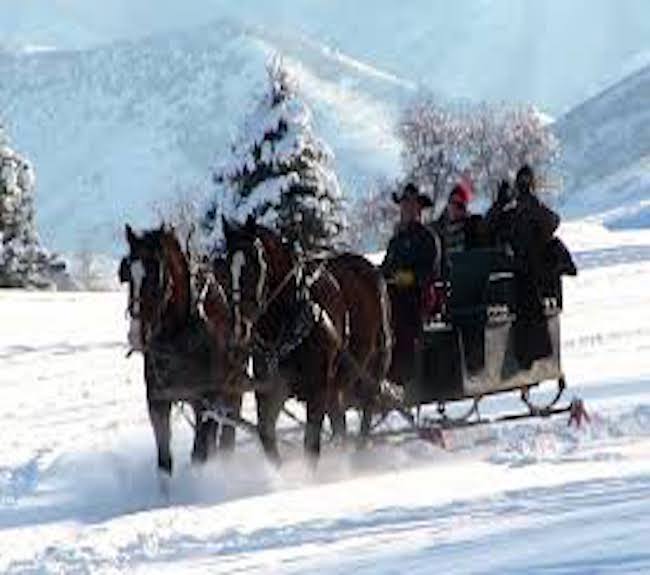 Skiing and snowboarding not your thing? Try a horse-drawn sleigh ride through the Teton's beautiful snow-filled landscapes.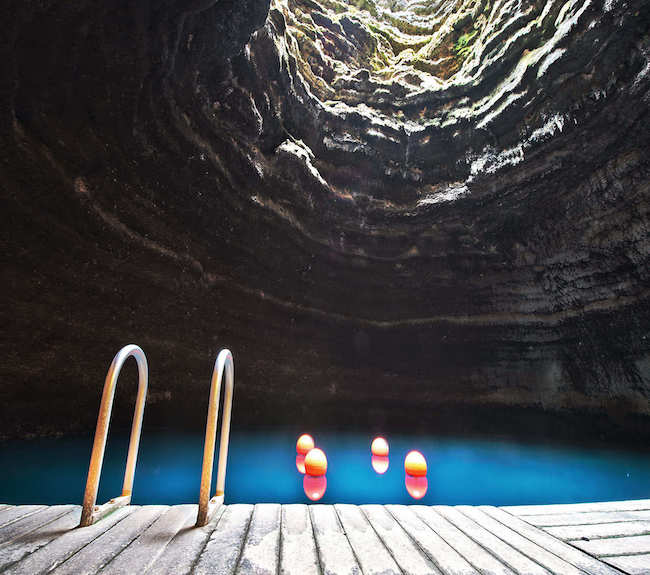 There are a number of hot springs that are great for a soak located in the greater Jackson Hole area. While a majority of the hot springs and geysers in Yellowstone are too hot for swimming, keep your eyes peeled for the Firehole and Boiling Rivers, two popular spots for enjoying a swim or a soak.
Two additional hot springs, Dunanda Falls and Ferris Fork Pool.
The Boiling River is located near Mammoth Hot Springs and is probably the most popular spot for swimming.
The Firehole River is located near the West Entrance in the Lower Geyser Basin, there is a reason why it can be so busy.
Huckleberry Hot Springs are located in the John D. Rockefeller Parkway, just south of Yellowstone and north of the Grand Tetons.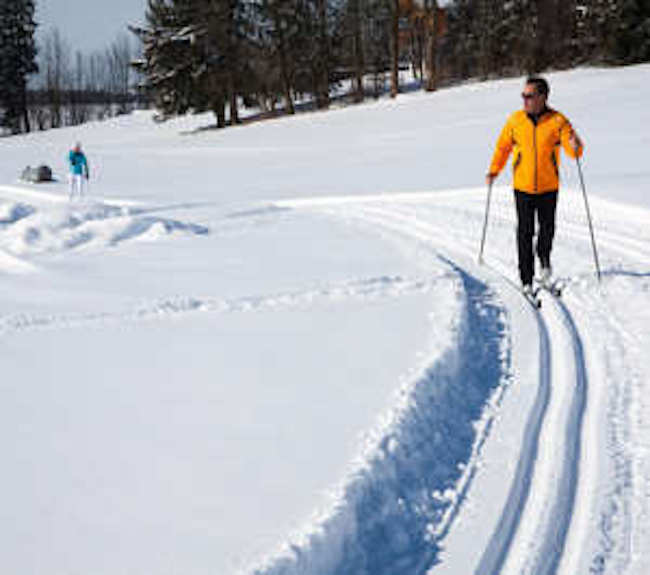 Whether you're a dedicated cross country skier looking to get your fix, or a beginner who wants to give the sport a try. There's an extensive trail system within Teton County and the upkeep that these trails receive is quite impressive. Most are groomed twice a week. To enhance your experience, try a half-day or full-day excursion with an experienced guide.